I recently interviewed the one and only Chris "Tallboy" Coulon, a masterful artist who I found out about through a screen printing shop I used years ago for a project. He has consistently made graphics for shirts, posters and album covers that have left me in awe. Below you will get to read a not-so-serious interview we had and you will get to see what I'm talking about with his art. 
DH: The first Tallboy shirt I owned was what I think was the first run of "Vacation Forever" which is probably the absolute best shirt that has graced my body. I remember everyone who saw it loved it and wanted to know who did it. The old man professor in college to the gas station attendant gave it the thumbs up. The question I have is which shirt or design is your personal favorite?
TB: Thanks! "Vacation Forever" will always be one of my favorites because it signifies the time in my life when the dudes at Liberated Images Screen Printing took me under their wing, taught me how to print and let me have a web store on the then new Shirtsanddestroy.com. Those guys taught me a shit load and became some of my best friends… Since then I've made a lot of designs but "Vacation Forever" always seems to be the favorite! As far as more recent designs go, "Pizza Pie or Die!" for Sizzle Pie in Portland Oregon was a fun one and the colors were printed spot-on!
It seems like you have an excellent sense of humor which is important in these dark times. Who or what would you say influenced your work the most?
The Simpsons, Beavis & Butthead, Toy Machine skateboard graphics, trashy 80's horror/comedy movies like The Toxic Avenger, Street Trash, Basket Case. I think getting into skateboarding as a kid opens you up to some awesome artwork and a lot of it has a good sense of humor because it's aimed at shit head little skate punks.
I saw that you moved out to California in a van, which is a beautiful van, and you seem to be pursuing the dream. You are also now closer to Bigfoot. Have you gone out looking for him? Or have you visited any of the Bigfoot museums?
I'm glad you like the van! That was an awesome trip. There's nothing like packing all your shit into a van and moving to the opposite end of the country. I'm living in San Diego now, so I've seen some burn outs covered in dread locks that look like Bigfoot, but I think I'd have a better chance of seeing the real thing back in the Northeast. 
The closest thing to a Bigfoot museum I've been to was a truck stop in Southern Washington between Seattle and Portland. I bought a postcard that looked like a retarded 5 year old drew Bigfoot on it.
A little off topic, but did you hear about the dude who tried to hoax a Bigfoot sighting by dressing up like Sasquatch and ended up getting shot?
Music. I know you are into the good stuff. If you could do a design for any contemporary musical act, who would it be? 
I'm pretty sure "contemporary" rules out Iron Maiden, Motorhead, Saxon, Judas Priest, Black Sabbath even though they all still exist. So I'd probably go with SAVIOURS because I saw them the other week and they fucking killed it and sounded a lot like some of the earlier mentioned bands.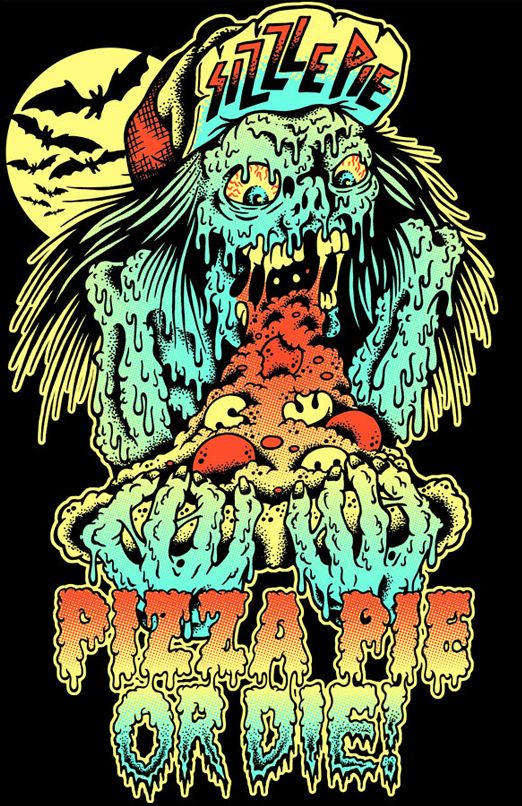 I know you know pizza as well. What toppings are normal on your pizzas?
I love crazy ass topping combos. I like pizzas with tons of toppings almost to the point of overkill. Me and my ex-bandmates in NITE used to destroy a cheeseburger pizza which consisted of ground beef, American cheese singles, onions and pickles. But most of the time I'll do onions, green peppers and some sort of meat like pepperoni, meatball, sausage or the almighty bacon. There's a "breakfast pizza" near my new place that I've yet to check out… 
You have covered a wide variety of subject matter in your work and I'm anxious to see what you are making. Is there anything new coming up you can talk about?
Yeah! Right now I'm working on a sexy female Bigfoot on her side, centerfold style. It's going to be for a skateboard company back home in Massachusetts called Tasty. It's going to be out of control! After that, I'm working with a barber shop in Australia and then some new TALL MART merch.
And lastly, I bet some little kid saw one of your drawings and said to himself, "Man. I wanna draw as good as this guy. He knows the meaning of life." What advice would you have to give to that little kid?
I'd tell that little kid to get his ass on a skateboard and go meet some skate buds… have fun, drink lots of beer, listen to Iron Maiden, check out the art of Jim Phillips, Pushead, Greg Irons, R. Crumb, Johnny Ryan, Basil Wolverton and all that kinda crap! Make sure you draw every day if that's what makes you happy and don't be a lazy piece of shit. You have to put in tons of work, and if you love it, it'll be no problem.
You can find more work by Tallboy at his website here: TALLBOY 
Be sure and check out his online shop here: TALLMART
Get creative and you could also win a shirt! Check out this contest he is having: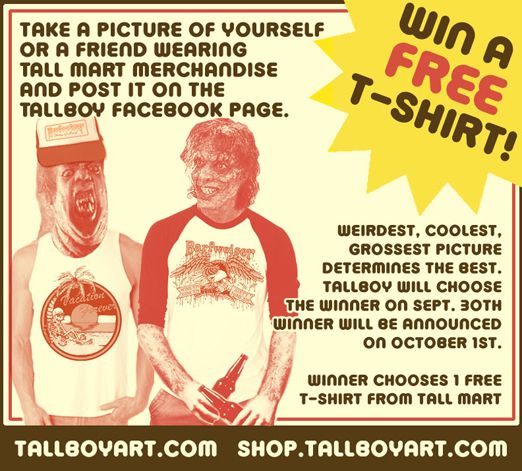 All work is © TALLBOY. 
Some new releases are available from CALICO GROUNDS.
Letters Etc. by Jonas Mekas
Edition of 100
A collection of personal letters from Jonas to friends, pawing with delicate poise the subjects of illness, music, Stan Brakhage and living in the new millenium.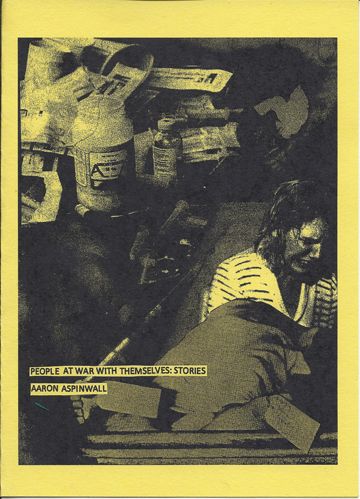 People At War With Themselves by Aaron Aspinwall
Edition of 100 
Facts u.A. by Tuomas Korpijaakko 
Edition of 50
Available here: CALICO GROUNDS
Ian Watson has some new paintings for sale in his webstore. There are original works, the last few copies of his zines, and some screen prints.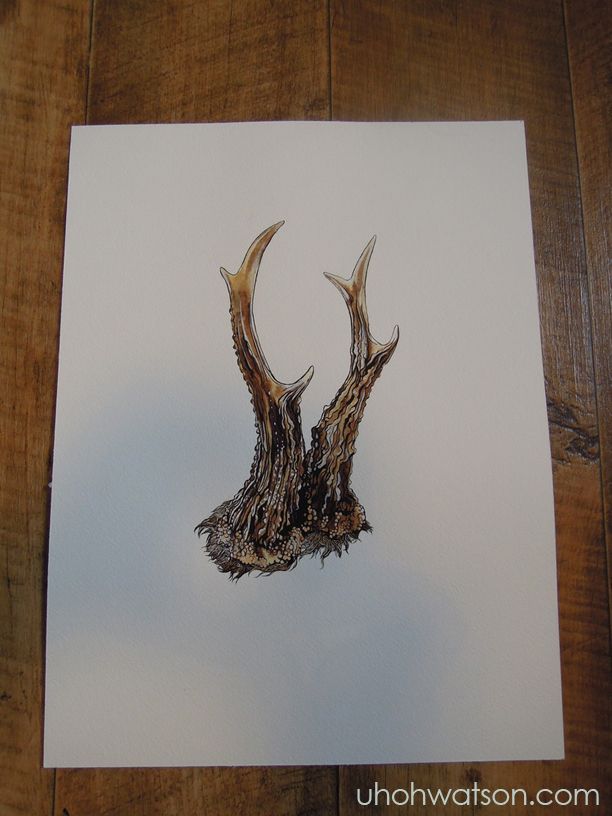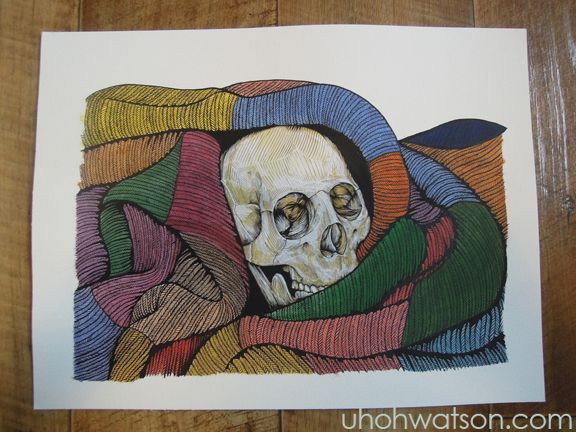 Get them here: IAN WATSON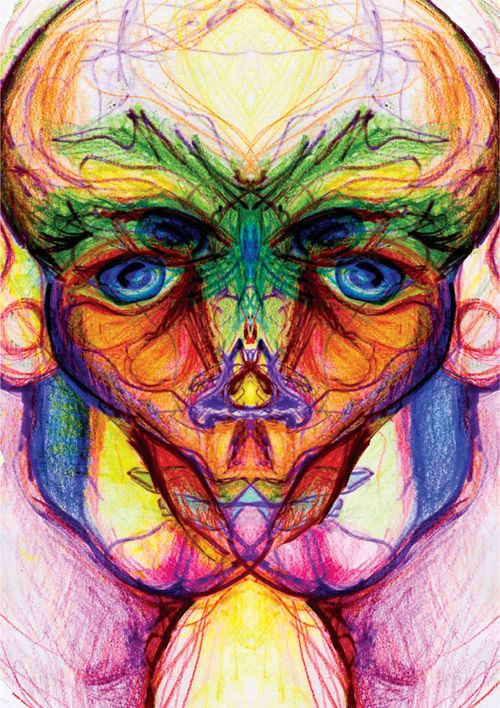 Art by Julia Rich
Julia Rich of Zeke's Lunchbox has released some limited prints of her illustrations. She's always coming up with some really colorful and wild things for your eyes to feast upon. 
Buy them here: SHOP
Check out her website: ZEKE'S LUNCHBOX
I came across Ian Watson's work one day and I was blown away. I knew I had to feature him and ask some questions. Be sure and check out his shop and get his newest zine. Here is the first interview I have ever done. Expect some more from other great artists soon. 
Where are you from and how did you wind up becoming an illustrator? 
I grew up in East Sussex, England and I now live in Cardiff, Wales. I've been in Cardiff for 14 years since moving here to get my degree in fine art. 
After those 3 years studying I was pretty fed up with trying to be an artist and in tons of debt so I decided that I needed to find a career and I was lucky enough to get training to work in TV post production. That is still my main income for about half of the year, depending on freelance contracts. The remaining part of the year I pursue my real interests of art and music (which I enjoy far more than the day job).
As for how I became an illustrator:
It was about 2-3 years ago when my excellent girlfriend bought me some screen printing gear and my interest in drawing and painting was revived. Almost all of my work is stuff that I'd like to draw rather than meeting somebody's stipulations on a design or theme so I don't really think of myself as an illustrator but I think that for others, looking at the style of my work and it's subject matter, it is easier to label it as illustration than fine art.
I found out about a cassette cover you did for the band Bear-Man while reading a review for it on Dead Formats (devdformats.blogspot.com.) Do you work with musicians often?
I have a lot of musician friends so I do tend to end up producing work for them, most recently for Truckers of Husk's 'Accelerated Learning' album which i'm really proud of as it's the first LP cover I've had the chance to do.
The Bear-Man Cassette was released on my label 'Phantomhead Recordings' which is now resting…. I was putting some personal music and sound art projects out on CDRs for a while… I then inherited a couple of thousand cassettes and a bulk eraser which enabled me to recycle them and I started churning out music from friends bands and I'd draw the cover art for each release. As soon as I heard Bear Man play I knew I wanted to do something with them! 
Do you have any specific artists or illustrators that you draw inspiration from?
Yes, Many! I think the most obvious, or the one that people draw similarities to most often is Charles Burns, another comic book artist whose subtleties I love is Daniel Clowes. Then there are the Chapman Brothers…. The old print masters like Dürer and Goya for their line-work and the biologist and artist Ersnt Haeckel for his decorative reproductions of plant and animal life and also worth mentioning is Ricky Swallow, the Australian sculptor for his jellutong works - insanely breathtaking detail!… I think I like art that looks like hard work!
Nature is very prevalent in your work and it seems like you are the kind of guy who wanders the woods at night. Am I right about this?
Ha! Actually you aren't wrong exactly. As a teenager I'd hang about with friends in local woods, parks, building sites… all of those places that we could escape parents or local townie kids who wanted to hassle us because we all had long hair and listened to guitar music… so yeah, we'd often head to the woods and smoke, drink, whatever. 
Most of my work is inspired by that time in my life.
The first time I drew a skull when I was a kid, my art teacher thought I might be troubled… Did you get these kinds of interesting things said to you when you began developing your style?
I think i've always drawn monsters or things in a slightly dark way - it's always much better that way and I get a lot of reactions from friends who don't really 'get it' but luckily for me I also have a lot of friends who do.
When I was studying for my art 'A' Level, about 16yrs old - I got told off by one teacher for 'living my life through music' having long hair and wanting to draw art for album covers - He was pretty wound up and said "I like to drink beer in the evenings but I don't base my life around it". 
I never really got how he likened alcoholism to being a music fan who drew and I think that was the oddest reaction to drawing skulls and things that I ever had.
You have some serious attention to detail. Do you use any specific types of pens or brushes that you favor? What kind of paper do you favor?
I'm a lefty (sinistra) which, combined with the way I hold pens, means that I ruin drawing pens pretty quickly which gets expensive. I tend to work either with a brush pen designed for Japanese calligraphy that takes a cartridge or just a straight 0 size brush in sable or synthetic sable… those tend to make a cleaner, darker line than a pen and allow you to get a mark which can be a tiny hair's breadth at one end and a thick, wide swathe at the other end. Really versatile.
As for paper, I use quite heavy and fine cartridge paper… 220gsm, but flat to take the ink nicely without letting it bleed.
In one of your illustrations, someone is wearing a Dawn Of The Dead shirt. So now I must ask, what are your top five horror movies?
Aaaargh - That's a seriously difficult question!
I'm probably going to regret this as soon as I've sent it because I will have missed something:
Dawn of the Dead (Romero version of course)
Suspiria (my introduction to Dario Argento)
Evil Dead 2 
The Thing
Hellraiser
Do you have any projects coming up that you want to share?
I'm putting together pics for another zine in the Brain Blood Volume series which should be ready in January. I think it will be quite different this time, with a mixture of colour and black & white work in there. I'm really hoping to do a limited hardback version but we'll see how that works out.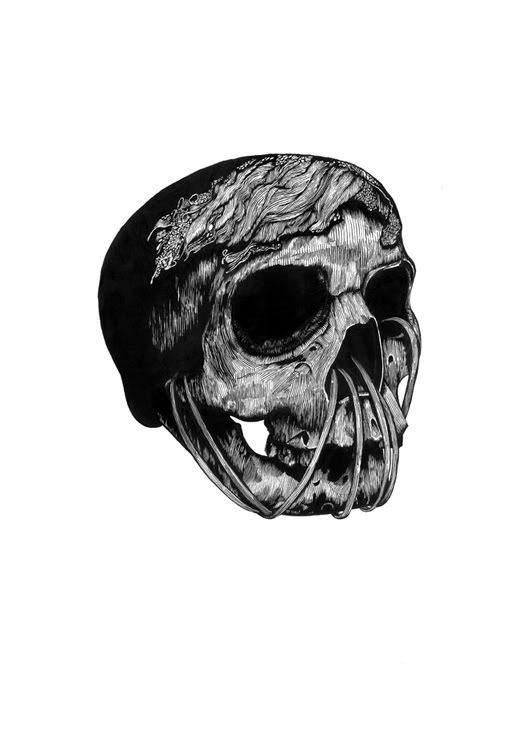 All artwork is copyright Ian Watson. 
Visit his website here: IAN WATSON
Visit his blog here: UHOH-WATSON.BLOGSPOT.COM
Visit his store here: PSYCHIC ATTACK
MOON EDITIONS puts out some of the most interesting, quality made, affordable art I have ever come across. They are constantly doing things that no one expects and this makes them stand out. This Halloween they have created old fashioned Halloween masks and a special "bag-o-bones" skeleton print with art by Florian Bertmer. All prints are hand printed serigraphs, limited to 100, each come with a mystery mini-print and are hand numbered. 
They just went on sale now. Get them before they are sold out!
Buy them here: MOON SHOP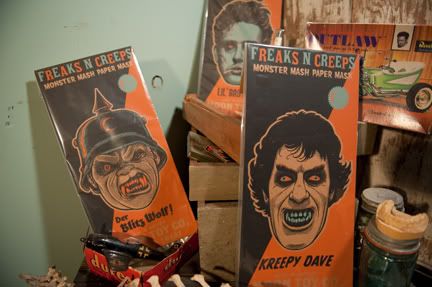 Photos and logo from MOON EDITIONS
For more art by Florian, check his website here: FLORIAN BERTMER
Photography by PATRICK KAWAHARA